Mr Gurd Shergill
I am a consultant trauma and orthopaedic surgeon working in Salisbury, Wiltshire. I am employed by the NHS at Salisbury District Hospital and also practice privately at New Hall Hospital in Salisbury.
I have been an orthopaedic consultant for twenty years and have over twenty eight years of experience in trauma and orthopaedics.
---
BIOGRAPHY
I trained at the Middlesex Hospital Medical School at the University of London and qualified in 1989. I then went on to do a surgical rotation at Stoke Mandeville Hospital in Aylesbury before going on to my specialist training based at the Royal National Orthopaedic Hospital, Stanmore, Middlesex.
In my practice I deal with all routine trauma and orthopaedic problems, but have a special interest in conditions of the knee and the shoulder.
For 3 years I was the Head of Service of the Orthopaedic Department in Salisbury. This not only involved the day to day running of the orthopaedic department but also involved the long term development of the department in discussion with the management.
I was involved in the expansion of the department, not only in terms of manpower, but also with respect to throughput without compromising the high quality of care provided.
I have been a member of many other committees in the hospital including the Medical Workforce Committee, the Local Awards Committee, Hospital Transfusion Committee, and the Hospital at Night Managerial Board.
At present I am educational and clinical supervisor to trainee surgeons and a recognised appraiser for consultant surgeons.
I am chairman of the Medical Advisory Committee at New Hall Hospital.
I am also the orthopaedic surgeon for the Salisbury Rugby Football Club.
---
ORTHOPAEDIC EXPERIENCE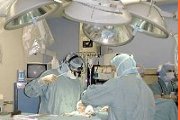 I have over twenty eight years experience in Orthopaedics and have a broad knowledge of the principles and practice of Orthopaedics and Trauma Surgery. I have applied myself in the sub-specialities of knee and hip reconstructive surgery, hand surgery, foot surgery, surgery on the rheumatoid patient, peripheral nerve injuries and shoulder surgery.
I have however developed a special interest in surgery of the shoulder and knee.
I perform a large volume of arthroscopic (keyhole) surgery of the knee and shoulder, as well as joint replacement surgery. I also perform soft tissue surgery of the knee and shoulder such as ACL reconstruction and rotator cuff repairs and shoulder stabilisation surgery.
I also introduced the use of Computer Assisted Surgery for knee replacements to Salisbury, as well as cartilage transplantation and the use of the Triathalon total knee replacement which is now being used by all othe surgeons due to the excellent outcomes for patients.
I have now introduced the use of the Reverse Geometry Shoulder replacement for those patients who have a non functioning rotator cuff and would previously have had to suffer with shoulder pain and very little function. This has revolutionised their treatment allowing for pain relief and good function.
APPOINTMENTS
NHS Appointments:
Contact Salisbury Foundation Trust, Salisbury District Hospital on 01722 336262 ext 3538
PRIVATE Appointments:
Contact Sandra Phillips on 01722 435155 or Email

SERVICES
Shoulder Surgery - View info
Knee Surgery - View info
General Trauma and Orthopaedic Surgery - View info